PeerStreet is a platform that allows investors to invest in high-quality loans with attractive rates. Peerstreet also offers them the opportunity for additional upside on their investment as well, unless they want to take advantage of diversification benefits.
PeerStreet is a peer-to-peer lending platform that offers loans to borrowers. PeerStreet offers an average annual return of 6% – 9%. This review will cover the pros and cons of the company.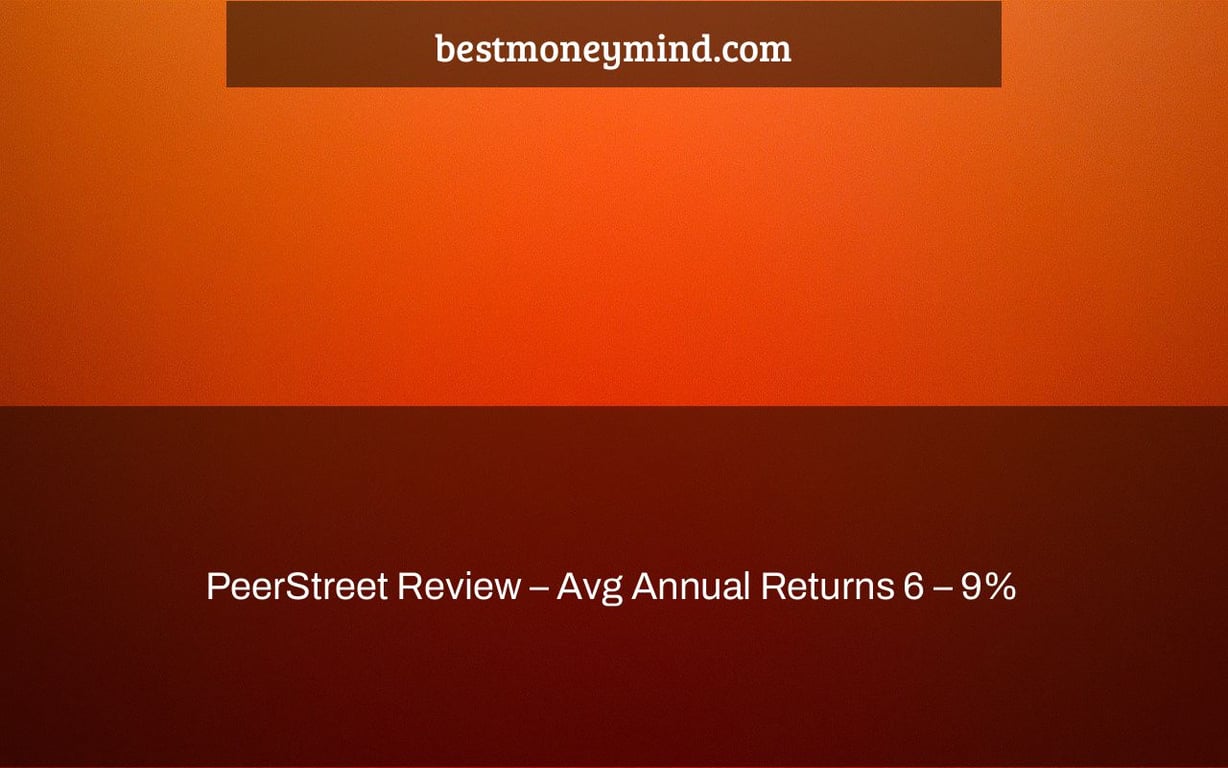 PeerStreet allows authorized investors to participate in real estate loans using the power of crowdsourcing. PeerStreet works similarly to a peer-to-peer lending network in that it offers loans guaranteed by real estate holdings.
Since its debut in 2014, PeerStreet has underwritten over 8,800 loans totaling over $4 billion.
PeerStreet has paid out $2.2 billion in capital and $175 million in interest to investors as of February 2020.
PeerStreet is the first two-sided marketplace that enables real estate loan investors to profit. A network of private brokers and lenders is used to source loans. Investors may also use the platform to service, monitor, and aggregate loans.
This article will teach you how to:
What is PeerStreet, exactly?
PeerStreet is a crowdfunding platform that links borrowers and lenders looking for short-term real estate loans. Lenders are investors who combine their funds to make loans in the expectation of collecting their principle plus interest back later.
PeerStreet enables real estate owners to create completely passive income while also preserving their principle investments by tying them to actual assets. There are hazards involved with both equity investments and debt, and these risks are present with unsecured loans as well. For many investors, real estate used to collateral a loan adds an extra layer of protection.
Borrowers on PeerStreet are experienced investors that buy a house, fix it up, and resell it fast for a bigger profit. These real estate equity investors agree that if they do not follow the requirements of the agreement, the loan will default, and PeerStreet will pursue legal action to preserve the investor's investment. Investors have a first-lien position, which implies that if the borrower fails, they will be paid first.
PeerStreet has paid down 96.32 percent of its debts by the end of 2020, avoiding foreclosure.
PeerStreet's high-quality, moderate LTV, short-term loans have rewarded investors with yearly returns ranging from 6 to 9%, depending on a variety of asset characteristics, according to their FAQ page on investor returns.
Returns on PeerStreet vs. Competitors
Keep in mind that the majority of the goods available on these web platforms are for passive real estate investing.
| | | | | |
| --- | --- | --- | --- | --- |
| | Fundrise | CrowdStreet | DiversyFund | PeerStreet |
| 2014 | 12.25% | NR | NR | 6 – 9% |
| 2015 | 12.42% | NR | NR | 6 – 9% |
| 2016 | 8.75% | NR | NR | 6 – 9% |
| 2017 | 11.44% | NR | 18% | 6 – 9% |
| 2018 | 9.11% | NR | 17.3% | 6 – 9% |
| 2019 | 9.47% | NR | NR | 6 – 9% |
| 2020 | 7.42% | 17.7% | NR | 6 – 9% |
NR stands for "Not Reported."
Not all investing platforms are created equal, and several do not need you to be a qualified investor. Our list of the finest online real estate investing platforms includes a detailed comparison of each choice.
Pros and Cons of PeerStreet
Pros of PeerStreet:
Various investment options: Around 12:00 Pacific time each day, new investments are added to PeerStreet. The number of new assets covered on a daily basis has risen over time.
PeerStreet investors may put up their investment criteria, which allows PeerStreet to automatically deploy any deposited funds into loans that match their preferences. Investors have up to 24 hours to opt out of any automatic investment before it goes live.
PeerStreet is open and honest about its fees and the success of its loan portfolio.
Earn interest on cash in your account while considering which investment to make next: PeerStreet Pocket enables investors to earn interest on their cash in their account while deciding which investment to make next.
Positive community impact: The Evolving Neighborhood Uplift Fund encourages entrepreneurs from underrepresented neighborhoods who wish to enhance real estate.
PeerStreet has a strong track record of performance, with a high success rate when it comes to recovering funds from defaulted loans.
Cons of PeerStreet:
PeerStreet requires all investors to be accredited, which eliminates the vast majority of individuals interested in real estate investing.
High minimum investment amount for more potentially stable and rewarding investment options: To benefit from the diversified fund, accredited investors must spend at least $100,000.
Debt investment only: PeerStreet exclusively offers debt investments, which may suit investors who desire a stable income but aren't concerned with capital growth. Equity crowdfunding is not available on this platform.
Many alternative real estate investing choices lack the openness and flexibility that PeerStreet offers. Here's what to anticipate:
Short-term loans range from six to 24 months. You may specify parameters to assist investments suit your diversification preferences when you establish a PeerStreet account. Dates of maturity, investment risk, property kind, and geographic location are all options.
Investors may automate settings so that if a loan that satisfies their criteria isn't accessible right away, they'll be added to a waiting list. When the loan becomes available, investors on the list may have their money invested instantly if their cash account balance is at least $1,000.
You may choose between a self-directed IRA and a taxed account. A self-directed IRA serves as a retirement account, and investors may finance their PeerStreet investing account with monies from any other appropriate retirement account. Accounts that are taxable are also accessible.
PeerStreet just linked with Wealthfront and Betterment, allowing investors to see all of their assets in one place and understand their asset mix more easily.
The FDIC insures all PeerStreet accounts up to $250,000.
If a loan fails, PeerStreet attempts to optimize the return on investment for the investors. The platform also assures that if it goes out of business, any residual loan investments would be managed by a third party.
PeerStreet invests via a network of private lenders that each do their own due research and screening. On the PeerStreet platform, loans are advertised, and investors may choose to finance them. PeerStreet investors function as mortgage lenders, while PeerStreet manages the financials and oversees all independent underwriting and loan assessment.
Loans on the PeerStreet platform are secured by first liens on the accompanying real estate and have a loan-to-value (LTV) ratio of 75 percent or below. PeerStreet investors have a first lien on the real estate that guarantees their investments. As a result, PeerStreet investors have a higher probability of recouping their cash if the borrower fails.
PeerStreet real estate investments, unlike typical real estate loans, are short-term. Bridge loans of six to 24 months are likely. Many of the loans on the PeerStreet platform are hard money real estate loans that will be fixed and flipped by experienced real estate investors.
According to SEC restrictions, PeerStreet investments are currently only available to authorized investors. This may change in the future, but for now, you must hunt for real estate investment options elsewhere unless you can establish your position as an authorized investor.
The PeerStreet platform's minimum investment is $1,000 for an initial investment plus $100 for reinvestments, so you may get started with very little money.
PeerStreet Investments: How to Sell
Because PeerStreet loans are illiquid, there is no simple method to withdraw funds after the investment has closed. Because there is no secondary market for loans, investors seldom have access to their funds throughout the loan period.
PeerStreet loans, on the other hand, are often just six to 24 months long, although many crowdfunding sites seek a four to ten-year duration.
While both REITs and PeerStreet investments enable investors to rely on real estate specialists for due diligence, some REITs are less varied than others.
PeerStreet allows investors to build a portfolio that meets their diversification needs by selecting properties from a variety of geographic locations. Investors may pick from a variety of loan types, return rates, LTVs, periods, and lenders.
PeerStreet is more flexible and transparent than many REITs in general. Individual loans may be chosen from a pool of well evaluated prospects by investors. Investors can easily find information about each property, loan maturities, and other loan characteristics to assist them pick a loan that will help them achieve their financial objectives.
High apparent and hidden fees have been a source of criticism for REITs. The fee structure of PeerStreet is intended to enable investors to achieve better investment returns than they would with typical REITs. To far, PeerStreet has incurred no losses as a result of their prompt response to late payments and defaults.
Many PeerStreet investors prefer the platform over real estate investment trusts (REITs). While REITs may be profitable, they are often less efficient than PeerStreet, which means costs might cut into investors' gains.
PeerStreet generates money by collecting 0.25 percent to 1.00 percent service fees on individual loans. Fees are not paid directly by investors. PeerStreet may give an 8 percent interest rate loan to a real estate developer for a project. If investors want to participate, they might earn 7.5 percent interest. To compensate their costs, PeerStreet takes 0.05 percent.
PeerStreet also charges loan origination costs, although service fees account for the majority of their earnings.
Of course, every investment has some risk, and a borrower with PeerStreet sometimes fails to make timely payments or defaults on the loan. PeerStreet investments, fortunately, are backed by real estate. PeerStreet seeks legal remedies on behalf of its investors in the event of a default.
PeerStreet is in charge of recouping outstanding defaulted debts. The firm employs regulatory professionals to assist in the enforcement of legal remedies. They attempt to prevent investors from losing money. While the procedure may take some time, PeerStreet has a history of assisting debtors in avoiding default and reducing the negative effect on investors. More than 95% of PeerStreet loans have avoided foreclosure and have been paid off.
PeerStreet investors usually get returns that are similar to their expectations. PeerStreet may be a suitable alternative for accredited investors looking to diversify while generating passive income guaranteed by real estate, since it has a strong track record of good performance.
While customer reviews often assist prospective investors in determining if a platform is a good match and, as a result, provides high returns, there are few reviews accessible for PeerStreet. There are no ratings on Trustpilot, the BBB has a thin dossier on the firm, and Reddit investors are vocal, but there isn't a lot of information there, either.
It's possible that the absence of reviews is due to the high standard that platforms dedicated to just institutional investors establish. Because the general public is unable to utilize PeerStreet, there are fewer investors who can share their first-hand experiences.
PeerStreet may be found on the BBB website.
On the Better Business Bureau (BBB) website, PeerStreet Investment, Inc has just six customer reviews with an average rating of one out of five stars. PeerStreet is not recognized by the BBB, according to the BBB file, which was created on January 22, 2018.
PeerStreet's headquarters, according to the BBB, are in El Segundo, California.
Reddit's PeerStreet
Investors on Reddit aren't very fond of PeerStreet, but many appear to believe that understanding the hazards of real estate investment is crucial before deciding whether or not to use the site.
"It's a very bad platform." I was fortunate in that I only toyed with enough money for one loan at a time. The first two were quick to pay off and paid off substantially ahead of schedule.
My current loan, which was formed in 2019, has been unpaid for 21 months, and they are just now, according to their really unclear cut and previous updates, getting around to some kind of "discounted" settlement. For example, they've tried to foreclose three times already (in 2019, 2020, and now 2021), filed three notices of sale, and each time they've just responded "the procedure is quite convoluted" when I've written customer care for clarification. Apparently, they'll only send out significant updates from now on, but it's been two weeks after the reduced offer was sent to their legal department, and nothing has happened since then. I anticipate a significant tax write-off of the initial sum at this time."
October 2021, -Mustang over20
"Any single investment failed, foreclosed, AND I lost money solely during the previous year." But it's inevitable that this will happen from time to time. In all other circumstances, I've always recovered my principle plus some interest thanks to a favorable LTV that has held or improved over time.
Diversification is crucial, as it is with any investment. I have 10-15 active PeerStreet investments at any one time, so the one that went into default and ended in a foreclosure sale that netted less than the initial loan amount was just a blip in an otherwise well-performing portfolio."
-August 2021, bleedsixcolors
PeerStreet won't deal with investors unless they're accredited, which rules out the vast majority of regular investors. The platform focuses on one-of-a-kind real estate financing. While PeerStreet may be a suitable match for high-asset investors with a high risk tolerance, participating in PeerStreet's projects requires a great lot of expertise about this form of real estate loans.
Even experienced investors may discover that PeerStreet assets have a lack of liquidity. Despite the fact that many PeerStreet loans have terms of less than 24 months, there is no simple method to get a hold of money locked up in a PeerStreet loan before it matures.
Watch This Video-
PeerStreet is a peer-to-peer lending platform that offers loans to real estate investors, who can earn an average annual return of 6% – 9%. PeerStreet has been around since 2013 and has seen steady growth. Reference: peerstreet revenue.
Related Tags
peerstreet review 2020
peerstreet minimum investment
peerstreet lawsuit
peerstreet layoffs
peerstreet default rate